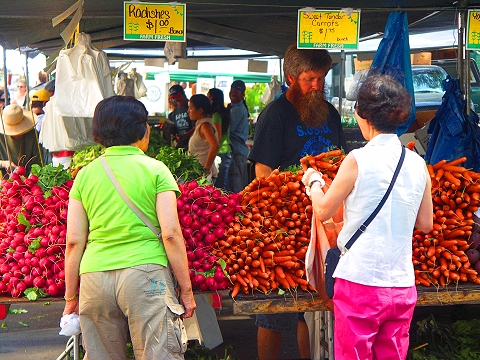 As usual, we here at project: CLEAN FOOD find ourselves frequenting the farmer's markets and local grocers in and around the New York City area. And we like to keep our eye out for all the produce that is in season and readily available for consumption.
Seasonal produce is the best produce to be eating. It allows us to tune our minds and bodies to the vibrations of the respective part of the land in which you live; so you are more in sync with all things intellectually and intuitively! Pretty darn cool, ya?
So here is what we have been seeing:
--Raspberries (going strong!)
--Peaches (wrapping up the season)
--Nectarines
--Concorde Grapes (just starting to come around)
--Apples (Jonamacs and McIntosh)
--Pears
--Plums
--Eggplant
--Beets
--Kale
--Collard Greens
--Corn
--Pumpkin (carvings, soups, pies, YUM!)
--Turnips
--Carrots
--Heirloom Tomatoes (and many others)
--Bell Peppers (beautiful colors!)
--Arugula
--Spinach
--Potatoes
--Chard
--Cauliflower
--Scallion
--Radishes
--Okra
--Squash
--Sweet potato
--Onion
--Broccoli
--Broccoli Raub
--Parsley
--Shallots
--Garlic
--Leeks
--Mustard Greens
--Italian Dandelion
--Celery
--Jalapenos
--Fennel
--Basil
--Flat beans
--Yellow beans
--Lettuce
--Zucchini
NOT bad huh? Imagine if we only ate food that was grown right here in our "own backyard"...
There is something very powerful about eating local organic produce: less pesticides, less transport, less fuel emmissions from trucks, lower costs, tastier foods, smarter kids, happier people...you get the idea.
...are you eating CLEAN FOOD...